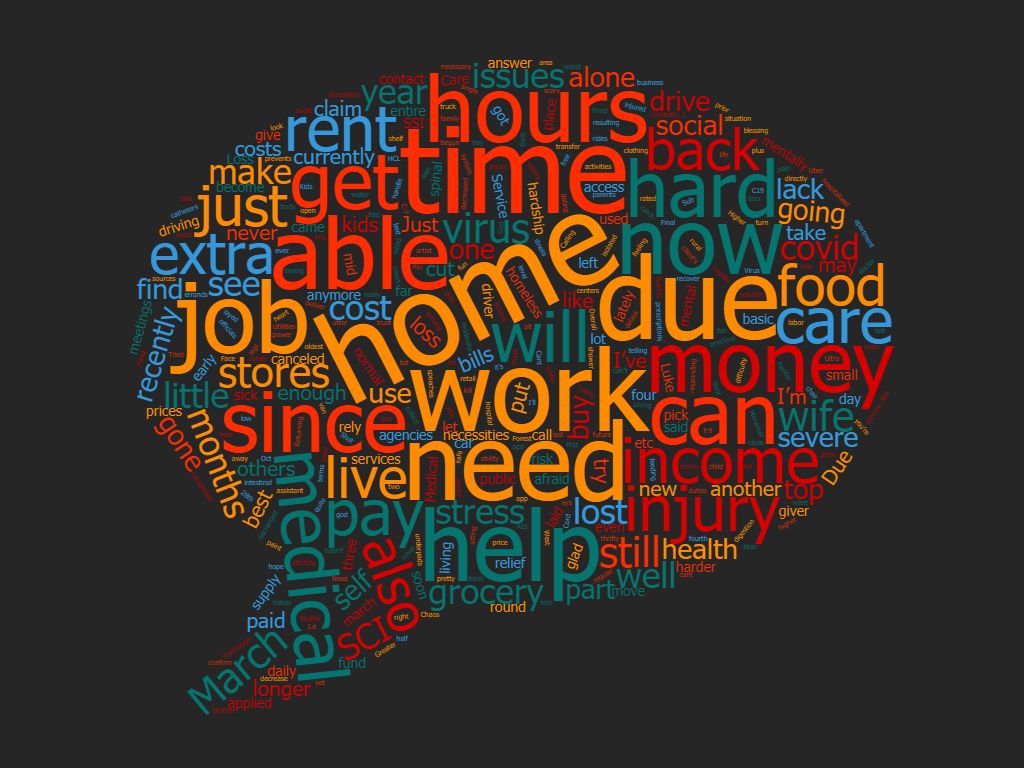 COVID response for the spinal cord injury community
Oregon Spinal Cord Injury Connection is committed to supporting our community through the long haul of COVID-19. As the battle to abate the virus will likely continue well into 2021, we are building supports to keep our community safe, healthy and engaged.
In May and June OSCI received $20,000 from Craig H Neilsen Foundation and $5000 from United Spinal Association to support the SCI community in Oregon and SW Washington. These funds were deployed to relieve some of the financia
l strain people are experiencing by distributing $100 to100 members, and the rest has been allocated to employ a community health worker to help those who have experienced service disruptions find the resources they need. The charts and word cloud below show how we distributed these funds and what we found the greatest needs are in our community to be.
We continue to distribute KN95 masks donated by United Spinal Association, as well as gloves, hand sanitizer and disinfectant donated by Providence Health and Services. If you need any of these supplies you can find our request form online. We have limited supplies, but will fulfill request as they come in. We also appreciate any donation you can offer to help offset the shipping costs.
In late July, we are excited to start collaborating with the Oregon Health Authority, QUAD, Inc, and Oregon Paralyzed Veterans of America during a 6-12 months campaign to promote safe, healthy living during COVID. If you are interested in promoting health to Oregonians living with paralysis please reach out to us, especially if you identify as a member of the Black, Latinx, and/or Tribal communities, your primary language is not English, and/or live in rural Oregon. We will be hiring SCI peers to help us do community outreach.