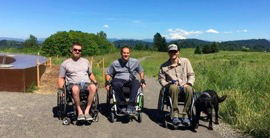 Out and About with the Cripple Triple Threat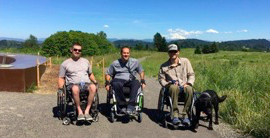 I recently had the opportunity to become a member of a wheelchair gang, The Cripple Triple Threat. It's the only one I know of in Portland. Actually, it may be the only one in Oregon for that matter. Dave, Josiah, and I are the Cripple Triple Threat, three friends who forged our friendship last summer through the adventures of wheelchair hiking. We try not to hog the whole trail, but as we push we joke about life in a wheelchair, and how dangerous and intimidating we must be as others pass us. More often than not, our joking settles on the idea that most people probably think we just escaped from the hospital and are on the run. I'm sure we're a sight to see.
As spring arrives, we will be hitting the trails around Portland any chance we get. Last year, some of our favorites included the downtown bridge loop, which connects the Steel Bridge, Morrison Bridge, Hawthorne Bridge and the Tillikum Crossing Bridge by the Eastbank Esplanade and the Waterfront trail. In the Gorge, we discovered the Mosier Tunnel Trail east of Hood River, where the old highway has been converted into a safe and scenic pedestrian-only trail. And for a real burner, we summited Powell Butte. On our list for 2017 is the Banks-Vernonia State Trail, an undulating paved section of an old railroad.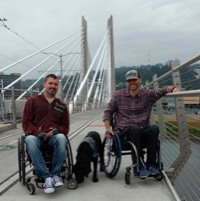 Oregon has so many wonderful places to hike and Oregonians love hiking! We love to be embraced by the beauty of nature, especially after a long, rainy Pacific Northwest winter. Who doesn't melt when the first sunny rays warm your face? The winter thaw begins from within, when vitamin D permeates your skin and awakens your sense of adventure. What better way to celebrate than to hit the trails and embrace nature? Thanks to AccessTrails.org there is now essential information explaining and showing (maps/photos/videos) the accessibility of dozens of trails and parks surrounding the Portland Metro region.
But for many people, especially those with disabilities, hitting the trails for exercise or any reason, is difficult. In Oregon, according to a state-wide survey a whopping 32% of individuals who reported having a disability in 2015 had not exercised for 30 minutes in the last 30 days, as compared to only 12% of those who reported not having a disability. This is because it's more difficult for people with disabilities than without to get exercise!
Hiking, or rolling, provides many, well-documented health benefits. According to the Center for Disease Control and Prevention, "people who are physically active live longer and have lower risks for heart disease, stroke, type 2 diabetes, depression, and some cancers." And according to the National Center on Health, Physical Activity, and Disability (NCHPAD), exercise releases endorphins that reduce stress, and when it's done in the company of others there is the added benefit of strengthening friendships, which has long-lasting benefits beyond the trail. Cumulatively, these benefits can increase a person's quality of life by boosting a person's confidence, sense of joy and self-image. Hitting the trail with friends is not only fun, it's what's best for your health and well-being.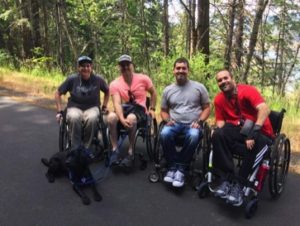 The Cripple Triple Threat – three guys in wheelchairs who enjoy nature and each other's humor – is an example of how friendships and hiking can improve your quality of life. As the weather turns nicer, check out AccessTrails.org to find a trail that is suitable for you and invite a friend to explore the trails around Portland.
Resources:
National Center on Health, Physical Activity, and Disability (www.nchpad.org)
Center for Disease Control and Prevention (www.cdc.gov)