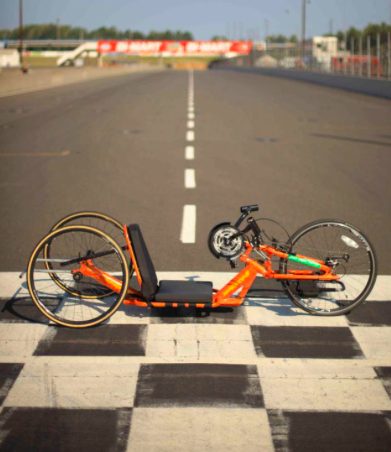 2018 PDX Summer Handcycling Series starts soon!
Come handcycle every Tuesday, 5-6pm at the Portland International Raceway from July 10th – September 25th! If you've never tried it, you may fall in love with it. And if you fall in love with it, you can apply to Kelly Brush Foundation and/or Challenged Athlete's Foundation for a grant to purchase a brand new handcycle for yourself! 
Handcycling is an amazing way to get exercise outdoors! It clears your mind and gets the endorphins going. I love handcycling because I get to escape my wheelchair for a hot minute and move through the world with speed and power! There's no better time to be reinvigorated by handcycling than summertime in the PNW!
Adaptive Sports Northwest (ASNW) hosts one of the largest handcycling clinics in the northwest. This popular event offers free access to 15-20 different handcycles and to the 2-mile Portland International Raceway. And they're trained volunteers can help you transfer into/out of a handcycle if you're uncertain of your ability to make the transfer. They also provide cold drinks and snacks to stoke your fire. If you've never tried handcycling or if you love it, spread the word and join dozens of other cyclers at PIR this summer!