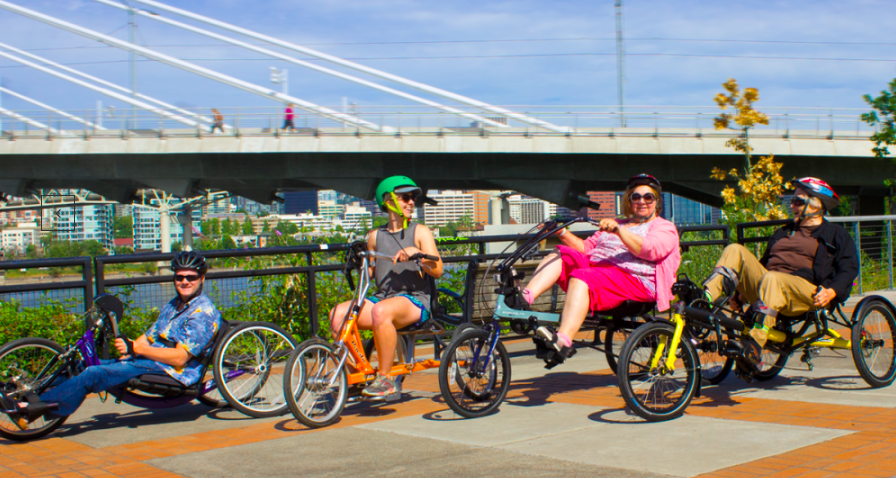 Adaptive Bikes for PDX
Whether it's special bike lanes, miles of bike-friendly trails or the bike share program, the city of
Portland has earned its reputation as one of America's bike-friendliest places. This July Portland added
another accomplishment to the list, launching the nation's first partnership between a private bike shop,
a bike share system and a city government to provide access to adaptive bicycles.
Dubbed 'Adaptive Biketown,' in a nod to the city's Nike-sponsored 'Biketown' bike sharing program, the
pilot program makes around a dozen adaptive bikes – including handcycles, trikes and recumbent bikes
– readily available for rent. For $5 an hour or $12 for three hours, users can rent one of the adaptive
bikes at Kerr Bikes, near OMSI om the Eastbank Esplanade, and pedal their way around Portland.
Oregon SCI member Jeremy Robbins served on the diverse board that helped plan the pilot over the first
half of the year. The board met with various disability groups and conducted surveys and focus groups
to gauge the needs and desires of Portland's disability community. He lauded the process as a sign of
what is possible. "It seemed to me like people in the disability community were willing to work together
to create a solution for the broadest audience," he said. "We didn't ultimately get everything we
wanted, but we got a pilot and it's working."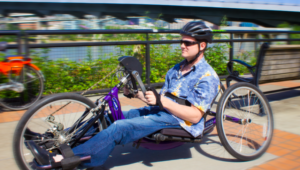 Robbins expressed disappointment that the pilot's scope was limited to one location and one partnering
shop, but is optimistic that a successful pilot program will convince the city and Nike (who contributed
$10,000) that Portland's disability community deserves more. "The hope is there is enough interest that they will want to integrate it into a permanent part of their program," he says. "Regardless, we have come up with a really good model that can be built on or shared in the future." Learn more at Adaptive Biketown.