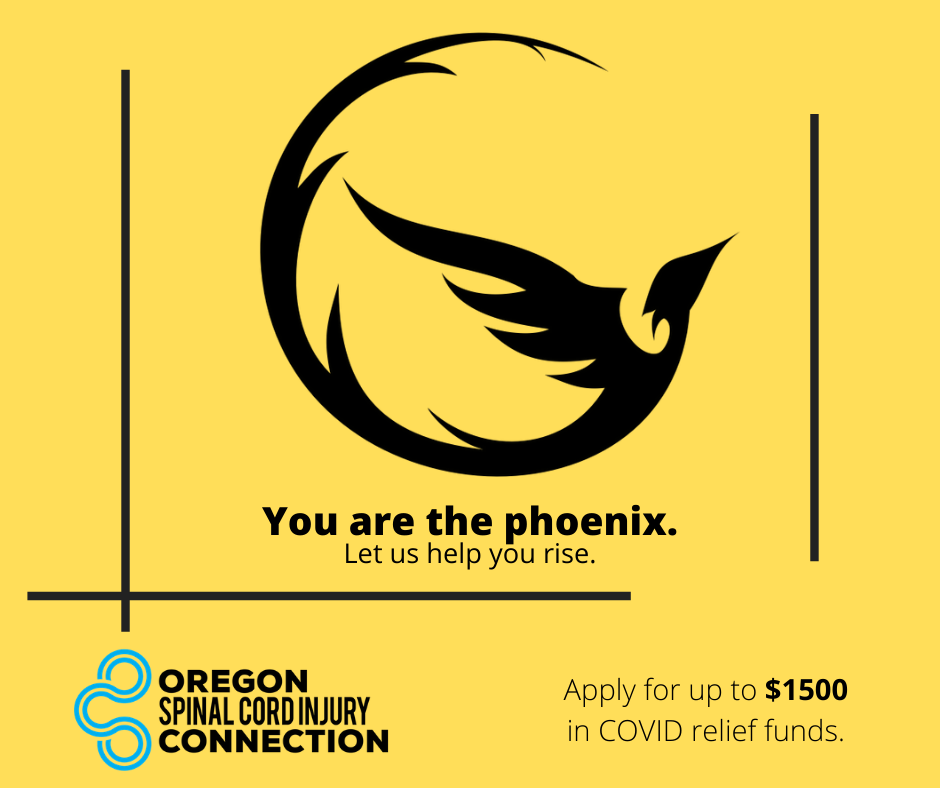 OSCI to distribute over $230,000 in COVID Relief Funds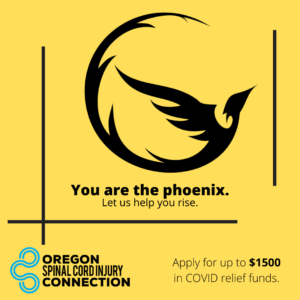 We are distributing over $233,000 in CARES Act grant money to Oregonians and SW Washingtonians living with paralysis who have been adversely affected by COVID-19. You must meet these criteria to receive funds.
Please apply using this form to receive up to $1500 in COVID relief funds. Funds will be distributed via PayPal, Amazon Gift Cards, or VISA Cash Cards. VISA Cash Cards will be distributed by December 15th. PayPal and Amazon Gift Cards will be distributed within two weeks of a completed application. If you would like to receive funds via PayPal but don't have an account follow this link to create a PayPal account (https://www.paypal.com/us/home).
Please share this broadly with your networks. We would like to reach as many people with paralysis in Oregon and SW Washington as possible. If you know others that qualify please share this post and/or have them email relief@oregonsci.org.
If you or someone you know needs help completing this application for any reason, including no access to internet, please call our Community Health Worker Program at (541) 778-7265.
For questions please email relief@oregonsci.org. Click here to apply: https://forms.gle/QfcVSmSsN9A1e6VQ7
. . . . . . . . . . . . . . . . . . . . . . . . . . . . . . . . . . . . . . . . . . . . . . . . . . . . . . . . . . . . . . . . . . . . .
Estamos distribuyendo más de $233,000 en fondos de subvención de la Ley CARES a residentes de Oregon y SW Washington que viven con parálisis y que han sido afectados negativamente por COVID-19. Debe cumplir con estos criterios para recibir fondos.
Solicite utilizando este formulario para recibir hasta $1500 en fondos de ayuda de COVID. Los fondos se distribuirán a través de PayPal, tarjetas de regalo de Amazon o tarjetas de efectivo VISA. Las tarjetas de efectivo VISA se distribuirán antes del 15 de diciembre. Las tarjetas de regalo de PayPal y Amazon se distribuirán dentro de las dos semanas posteriores a la finalización de la solicitud. Si desea recibir fondos a través de PayPal pero no tiene una cuenta, siga este enlace para crear una cuenta de PayPal (https://www.paypal.com/us/home).
Comparta esto ampliamente con sus redes. Nos gustaría llegar a la mayor cantidad posible de personas con parálisis en Oregon y SW Washington. Si conoce a otros que califican, por favor comparta esta publicación y / o pídales que envíen un correo electrónico a relief@oregonsci.org.
Si usted o alguien que conoce necesita ayuda para completar esta solicitud por cualquier motivo, incluso sin acceso a Internet, llame a nuestro Programa de trabajadores de salud comunitaria al (503) 757-7820.
Si tiene preguntas, envíe un correo electrónico a relief@oregonsci.org. Haga clic aquí para aplicar: https://forms.gle/R6e4nPJgfKuMKUYn6